10 Yard Dumpster Contractor/Commercial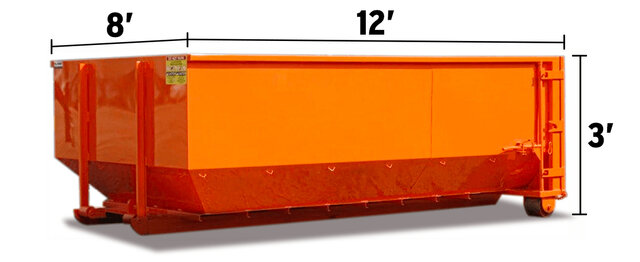 Dimensions: 12' L, 8' W, 3' H
Rental Time: Up to 10 Days
Additional Days: $10/day
Tons Included: 2 included
Extra Weight: $65/ton
Description
Capacity: The 10 yard size is equivalent to 4 pickup truckloads or 50-70 33 gallon trash bags which weight typically ranges from 1-2 tons ( 2000-4000lbs) depending on items being discarded. Included in our flat rate fee is 2 tons.
Prohibited Items: Appliances, electronics, tires, batteries, liquids of any kind, hazardous materials, concrete, brick, or dirt. Please call if you have any of these items for pickup and we can try to accommodate with our junk removal service for recycling items.
Extra Charges: Solid waste and city tax are additional to our flat rate fee and will be added at checkout.